In order to justify their greed, colonial officials routinely whitewashed their actions in their reports. Soon after Henry Jennings and other Jamaican privateers committed robberies against the Spanish and French in late 1715 and early 1716, Lt. Gov. Benjamin Bennet of Bermuda reacted to a suggestion that his privateers might behave similarly. Undoubtedly wishing to distance himself from Gov. Archibald Hamilton of Jamaica, he said "It is not true that the Bermuda men go partners with the Jamaica men in the Spanish galleons."  Bennet made sure that the Board understood that Bermudian men had nothing to do with arrogant Jamaicans, but, of course, he never denied an interest in the treasure.  To this effect, he added, "The Jamaica men forced the Bermuda men from the wreck. They returned when the others had quitted." A later newspaper report suggested twenty-five ships total worked the wrecks at the same time, thirteen Jamaicans and twelve of them from Bermuda. Of course, the smaller craft from the Bahamas and elsewhere were neglected in this report.
It should be noted, moreover, that Capt. Henry Jennings, the first of Hamilton's privateers to illegally sack the Spanish salvage operation on the Florida shore, was already rich. He owned large estates on Bermuda. He later accepted his royal pardon there, intentionally sailing from the Bahamas with his crew. Jennings may have received his commission from Jamaica's governor Hamilton, even owned property in Jamaica, but he claimed to be Bermudan. Jennings had lived for generations on Bermuda and had arrived as some of its first settlers in the Somers Island Company.
A Rev. Henry Jennings came to Bermuda in 1635 with other original immigrants of the Somers Company following Richard Jennings, his wife Sarah, and brother Thomas. Capt. Henry Jennings, the Jamaican privateer, probably descends from this family. There may also be a connection to Sir John Jennings who sailed as a privateer from Jamaica with Admiral William Whetstone's fleet in Queen Anne's War. Perhaps this is the subtle association which Bennet rhetorically attempted to escape.
The Jennings were one of the oldest families on Bermuda, found there as early as 1622 and related by marriage to Perient Trott, the grandfather of Bahamas governor Nicholas Trott.  In Slaves and Slaveholders in Bermuda, Virginia Bernhard's research primarily concerned slave owners like early Bermuda settlers Capt. Thomas and Richard Jennings I and II. These men paid little attention to their slaves' needs. They were some of those fined heavily to induce slave owners to provide better nourishment and thus, prevent petty theft of foodstuffs and hogs.  Capt. Richard Jennings I, born about 1600, deserved special treatment by Bernhard, who appeared first as a salvager of Spanish shipwrecks. Capt. Jennings and surveyor Richard Norwood were ordered in 1642 to examine a Spanish wreck and make report of the treasure available. Jennings never made that report and the silver was never accounted for. Some years later, Richard Jennings may have plotted to take over the government of Bermuda, yet in three years had become a member of the Bermudan Council. He also sold land in Bermuda to a "Mr. Carter" in England that, in 1656, belonged to Lawrence Washington, great-grandfather of George Washington. The survey of 1663 showed that he possessed 250 acres of land (the most allowed) in ten properties on the tiny island. Most of those properties, stretched from shore to shore and lay in Smith's Tribe bordering the Flatts, as shown in figure 9 below, containing also the Jennings family mansion. It seems smuggling may have been a large part of the Jennings family business:
The secluded harbor Of the Flatts was ideally suited for a smugglers' haven… Vessels riding at anchor in the calm waters at the Flatts were not visible from the open sea to the north or from the capital, St. George's, to the west. Smugglers could thus load or unload contraband goods without fear of discovery by customs officials. At the Flatts, and at other secluded inlets, a considerable and largely undocumented amount of illegal trade took place. As one governor noted in the 1720s, "Pyrates in former days, were made very welcome, and Governors have gain'd estates by them."
Bernhard wrote that Richard Jennings died in 1669 "clearly a wealthy man, and by the end of the seventeenth century his sons had become even wealthier." Jennings, Whites, and Trotts all probably made the bulk of their fortunes by smuggling from these shores.
<![if !word & !ppt & !excel & !vml]>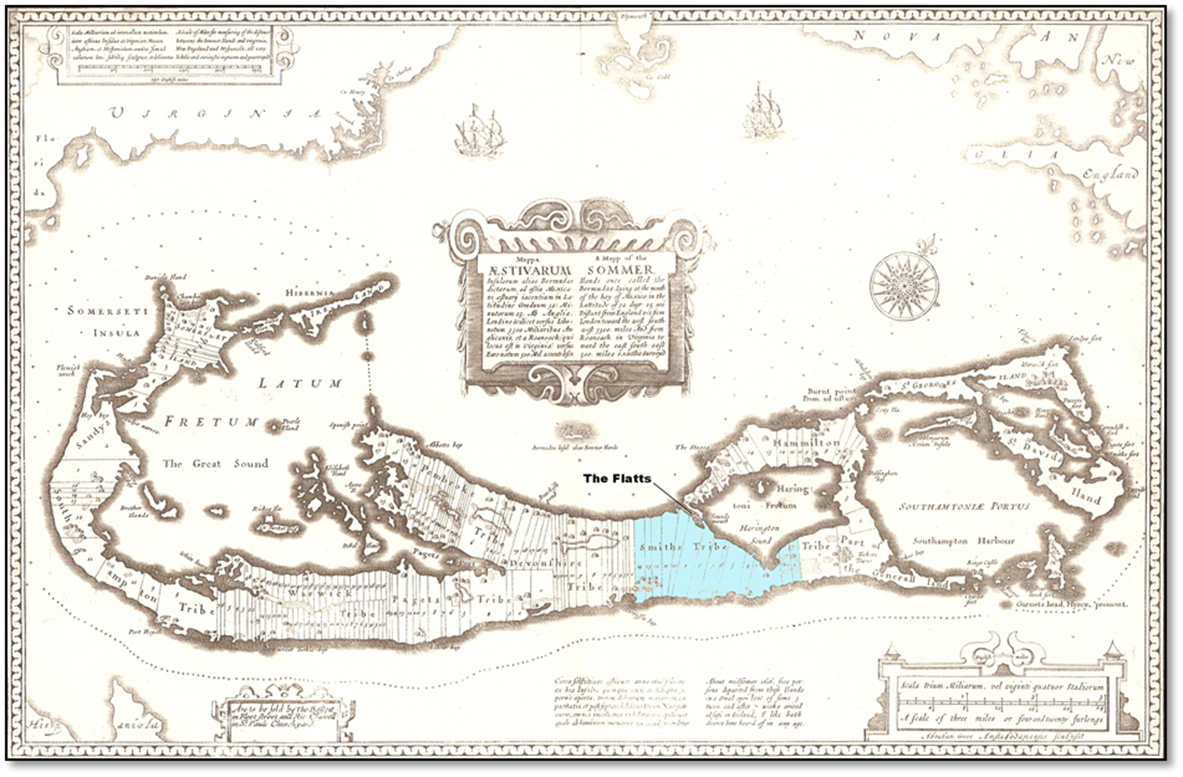 <![endif]>

Figure: A 1676 map of the Somers Isles (alias Bermuda), by John Speed (based on the map of surveyor Richard Norwood). Clearly shown are the tribe roads cut parallel through the forest between the North and South Shores (except in St. Georges, the eastern-most subdivision, comprising the islands of St. George's and St. David's, the South-Eastern tip of the Main Island, and the various smaller islands between. This was general land, and not commercial. Source: Wikimedia Commons, https://commons.wikimedia.org/wiki/File:Somers_Isles_Map_-_John_Speed_1676.jpg (accessed January 17, 2016). Inset from Memorials of the discovery and early settlement of the Bermudas or Somers Islands, 1515-1685 [i.e. 1511-1687].

            

Capt. Richard Jennings III, grandson of the Bermudan immigrant, charged that the colony of the Bahamas was "wholly defenceless." Being acquainted with the proprietors' newly appointed governor of the Bahamas, Col. Robert Holden and his plans in 1707, he attested that Holden had no intention of going there. Holden had, however, taken an opportunity of making a profit. He planned to sell the destitute inhabitants there "half a tun of swan and other shot, and some powder." Even Jennings pondered upon the right thing to do: to give the shot and powder to these helpless Bahamians who needed it for their defense, but Holden later told a lawyer for the proprietors that he intended it only for sale. Although the proprietors asked Capt. Richard Jennings III to report upon the needs of the Bahamas to defend it, Lord Ashley testified that he and the other proprietors nevertheless regarded it a worthless and unprofitable venture. Holden regarded the inhabitants as "licentious" and unworthy of their aid and certainly reported this to the proprietors. The Lords Proprietors, as private owners of the Bahamas, chose to let the people fend for themselves, defenseless in a war zone.

Richard Jennings IV captained his father's and his partner Perient Trott (father of Bahamas governor Nicholas)'s appropriately-named "Pensance of Bristolle," 15 tons, to carry sugar from Barbados and "corn, pease, pork, and talow" and ship booms and masts to Virginia in 1715. Richard III and Trott also dealt in the products of the Bahamas for several years with the same ship: Braziletta wood and salt.

Henry Jennings, with two town lots in Kingston, Jamaica, was a mariner involved in "trade." He is first found in Jamaican shipping lists as captain of sloop Seaflower in November 1710 at the Bay of Campeach, collecting logwood. He was one of many "sugar drovers" who had been recorded losing a sloop Diamond, 45 tons, of four guns, in Jamaica in January 1712. In July 1715, he was in the port of Boston in a Rhode-Island registered 40-ton, 4-gun "Bathsheba" of Jamaica with only eight crewman! He then attained status as a privateer of Jamaica in that same, tiny sloop! Captain Balchen, of HMS Diamond, wrote to Admiralty Secretary Burchet from Jamaica on the 13th of May, 1716, describing Henry Jennings' official commission from "Lord Hamilton… for suppressing of piracys." Balchen said Jennings merely sought to capitalize upon the spilled treasure, like everyone else—not take pirates. Jennings and four other English captains, who held little regard for the Spanish even in peacetime, had stolen recovered treasure directly from their salvage base camp at San Sebastian Inlet on the Florida shore, rather than simply fishing the wrecks in the water.

Probably a son or nephew of Richard Jennings III, Henry returned to Bermuda after his short, blatantly illegal, but profitable, run as a pirate. There, he may have contented himself with the family's smuggling and slave business. He left for Bermuda before Capt. Vincent Pearse arrived in HMS Phoenix at New Providence in February 1718 to enforce the king's wishes and accept the surrender of hundreds of pirates. Gov. Bennett, who may have been glad to have him back in local business, wrote to the Board, specifically mentioning him, that "Capt. Henry Jennings one of them (who left off that way of liveing some months since) has arrived here who with seven others have surrendred themselves," perhaps the entire crew of Bersheba.

Henry Jennings may have had enough of Jamaica at this point. Perhaps he wished to enjoy his profits from piracy for awhile. In October 1718, he had remained as the owner of Bersheba with George Ball, but hired a new master, Francis Lester. Bersheba was then rated at 35 tons and carried 6,000 board feet of oak planking. The shipping records also record a smaller, 15-ton Bersheba, registered in 1717, captained by and owned by William Martindale and Daniel Tucker of the large family of ship-owning Bermuda Tuckers the next year. Tucker had partnered with Gov. Benjamin Bennet on occasion and must have been impressed by Henry Jenning's performance in his pirate Bersheba! John Jennings of Bermuda, occasionally partnering with Henry Tucker, coincidentally owned Elizabeth, Maries, Dover, Deborah, and March from 1715-1720 while Richard Jennings III et al owned Hunter, 27-ton Swallow, and partnered with Charles Walker of Providence in 8-ton Picker from 1720.

By 1720, a "Capt. Jennings" operated again as a privateer from Jamaica in the next war with Spain, carrying three prize vessels, two brigantines and a sloop, into New York with cargos of "Snuff, Sugar, Oyle Soap, and European Goods." In 1723, a Jennings was captured by another pirate named "Evans" and held prisoner until a quarrel broke out among the pirate crew. Jennings and other "forced men" retook the ship and sailed it back to Bermuda. Capt. Richard Jennings of the Somers Islands, John Jennings, and a few other captains named Jennings operated out of Bermuda for many decades, as both merchants and privateers, making runs to Jamaica, Boston, Philadelphia, and New York, yet they faded from the shipping records in the 1730s. Daniel Jennings in sloop Nymphet and another Richard Jennings in sloop Sommers Islands then carried the family barrier all across the eastern seaboard and West Indies, particularly Jamaica to New York. In 1742, as the aging owner of Henry Jennings & Company of Bermuda, this Henry Jennings dabbled in the earliest family business, transporting slaves from Africa to the West Indies in the vessel Friendship. A perhaps younger "Capt. Henry Jennings" of sloop Ranger, a vessel owned by "Richard Downing Jennings and Henry Jennings of Bermuda" also traded to Philadelphia in 1767. The Jennings' family businesses of smuggling and slavery in America probably continued right up to the American Revolution and beyond.

<![if !vml]>